Marcel Beukers
He grew up on his parent's cattle farm. At a very young age he learned to appreciate the beauty of horses and was taught to ride a pony, following in the hoof prints of his four older sisters' ponies. He grew up to be a very successful rider and expert in various pony sports. Marcel took part in the Dutch eventing pony championships when he was just 17 years old. In the years that followed, he participated in the European Military Championship for Juniors, became Dutch champion in the Dutch eventing horse championships and took part in the European Military Championship for Young Riders. Despite his young age, he also took part in the Dutch Z classes (top class), both the show jumping and dressage events.
Marcel decided to focus on show jumping and trained many young horses to Z/ZZ level. In 1996 he became indoor KNF champion in this class (KNF stands for Royal Dutch Federation of National Riding and Pony Clubs). He successfully competed with many horses in KNHS show jumping categories (KNHS stands for Royal Dutch Equestrian Federation). Marcel specializes in training young show jumping horses. A fine example of his training skills is the magnificent stallion Taloubet Z. He fully trained this horse, broke it in and taught it to jump and succeeded in reaching the Dutch Z level. Today well-known rider Christian Ahlmann competes with Taloubet Z: truly a top-class horse.
Marcel started working in the horse business at an equestrian centre in Egmond and later moved on to become manager and stable rider at a large stud farm in Zuidoostbeemster. In 1997 he was briefly employed by Stal Burg where he worked under the direction of two-time Olympic competitor and former Dutch national coach Bert Romp. He gained a lot of experience there. Meanwhile he dived into four years of stud research as a rider at KWPN (Studbook of the Royal Dutch Sport Horse) in Ermelo.
In that same year he started his own business: Marcel Beukers Stables. Even with his busy schedule, he found the time to work as a stable rider/manager at Seignette Stables in Assendelft. Since 2004 Marcel is fully independent, continuously trying to perfect and expand his business and services. All his hard work paid off: in 2005 he realized a fully new, modern accommodation with riding hall and stable complex.
Marcel is a certified ORUN instructor. He has had the pleasure of teaching show jumping at LR De Zaanse Ruiters in Wormerveer since 1998.
The hand that rocks the cradle rules the world: Marcel spent many years training young riders at the Hippisch Talentencentrum (Equestrian Talent Centre). Recently he has expanded his activities and became Board Member for the HTC Northwest region. He coaches many regional talents and his stable is awarded the KNHS TTC status (Talent Training Centre). There are only a other stables in the Netherlands with this title, so this is something to be proud of!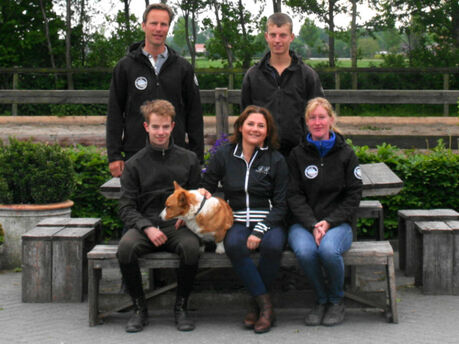 Henriëtte Beukers
With a horse-riding mom, it is no wonder Henriëtte got onto a horse, too. Like many others she started her training on a very naughty Shetland pony, but she soon knew how to keep it under control. Her Shetland pony was followed by a larger pony and after that Henriëtte started training her first horse, Jubilee, and made it all the way to dressage class Z. Henriëtte had to focus on her Economics studies, and so Jubilee was stalled with trainer Derk Schekkerman. That is how she met Marcel, who was working for Schekkerman at the time. Henriëtte was very busy with her accounting career, but also spent a lot of her time building a life in the horse business, combining her love for Marcel and horses. Marcel and Henriëtte work really well together and form a great team. Henriëtte trained various dressage horses, including Jubilee's offspring. At Beukers Stables she is responsible for the accounts, PR and ins and outs of the canteen. Marcel and Henriëtte have two children who also ride, of course. Henriëtte loves to support and coach them during competitions, as often as her busy schedule allows.
Sanne Leeuwenkamp
Sanne has been with our company since 2005. She and Marcel train the young horses. Sanne takes care of the horses at Beukers Stables, keeps the stalls tidy and manages the trainees. Quite a tough job for a young mother, but nothing beats her passion for horses. She is a qualified ORUN instructor and gives private and club lessons at our stables. Sanne started riding at a very young age and has competed with several horses up to the Dutch Z show jumping level. Currently she is training her own bred horse to compete in show jumping.
Koen van Vulpen
Koen is in addition to his technical education working part-time with us. He specializes in breaking in the young horses. He does this together with Marcel, so they are one hundred percent attuned to each other. In his spare time Koen has its own horse which he rides in showjumping and eventing.